New York QB gets first experience at Ohio State
2017 dual-threat Spring Valley (N.Y.) QB Ori Jean-Charles was able to see Ohio State for the first time this weekend and came away impressed with the Buckeyes.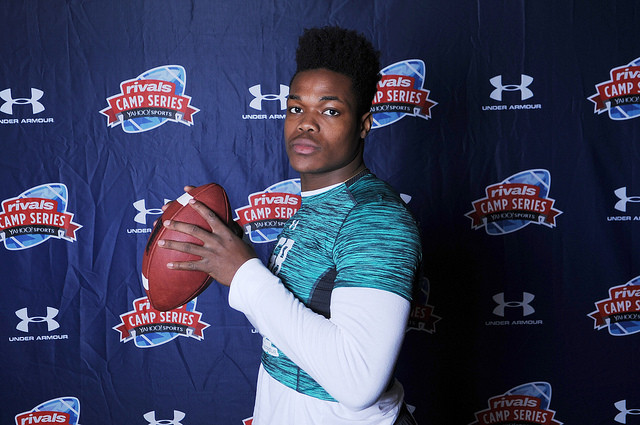 Spring Valley (N.Y.) dual-threat quarterback Ori Jean-Charles swung by Columbus for the Rivals Quarterback Challenge presented by Under Armour this weekend. Jean-Charles was able to check out another major attraction in Columbus while he was in town in Ohio State and its football program, as the New York prospect was able to get the lay of the land in the Woody Hayes Athletic Center
"It was my first time to Ohio State. It was amazing. The facilities are top notch and it's the best visit I've had so far. I spoke with Urban Meyer and quarterbacks coach Tim Beck, and I had lunch with their new defensive coordinator, Greg Schiano," Jean-Charles said. "And I met Brian Hartline too. We were there a long time and talked a lot of football. Practice was amazing."
Jean-Charles was impressed with what Ohio State's coaching staff had to say and he made note of the success that the Buckeyes have had and the methods that brought them to that point.
"The relationships are good. I like the way that they're honest with kids and they set a standard at Ohio State that's amazing," Jean-Charles said.
The coaching staff and the vibe that he gets from them is more important for Jean-Charles as a recruit and he had a particularly positive interaction with Ohio State's staff. As he touched on, honesty and sincerity are critical for Jean-Charles.
"I like to see a school's facilities, their academics, and especially the coaching staff. I pick up on coaching staffs quickly and I loved Ohio State's coaching staff," said Jean-Charles. "They were really honest and they demand a lot of you to make you the best player you can be."
Jean-Charles has seen New York players like Curtis Samuel make it down to Ohio State and excel as playmakers for the Buckeyes. It's unclear if his best position in the future will be at the quarterback spot or if he'll be more of a big athlete, but Jean-Charles knows that if he were to end up at Ohio State, they would be a staff that could maximize his talents.
"It shows that if you do what you've got to do, they're going to find you. New York isn't just a basketball place. We have a couple boys that can run the rock and sling the rock. New York can do it as well as any other state, so it's cool to see big-time players from New York like Curtis Samuel playing big-time football at different places," Jean-Charles explained.
The New York native has also taken recent visits to Boston College, Syracuse, and Stony Brook and has plans to visit Maryland and Temple. He is still awaiting his first offer, but this 6-foot-4, 220-pound prospect from the Big Apple is sure to see Division I college attention soon.